What it takes to be a leader in Rotary
By Vanessa Glavinskas Illustrations by Zulema Williams
RI President Barry Rassin says he learned more about leadership from Rotary than he did pursuing his MBA – or even as president of the hospital he ran for years. "It takes more skill to lead volunteers," he insists. "It's harder than leading employees." Rotary also gave Rassin the opportunity to practice public speaking. "When I started in Rotary, I couldn't make a speech to save my life," he says – a remarkable admission from a man who is clearly comfortable addressing large crowds today.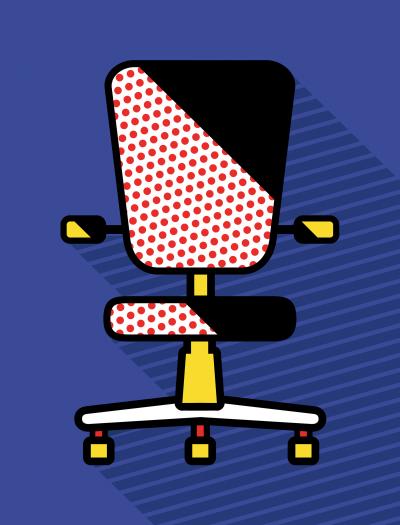 There are other benefits to assuming a leadership position at Rotary. The organization's leaders gain access to world-class training that prepares them for their roles. As they ascend the ranks, they also expand their networks to include accomplished professionals from around the world.
A new generation of good leaders is essential to Rotary's future. They help guide the organization, contribute their professional expertise, and build goodwill with other leaders while working toward a common goal: helping Rotarians create sustainable, positive change.
Thinking of taking on a leadership role? Read on to learn more about different positions available within Rotary and the myths – here debunked – often associated with them.
Club president
Club presidents plan and lead club meetings, set goals, encourage communication between club and district committees, review expenditures, participate in decisions, and motivate club members. They also collaborate with the district governor and assistant governor. Any member in good standing is eligible to become club president, though most presidents have already served their clubs as a committee chair or in some other leadership role.
MYTH: It's all on you.
"People think they have to be good at everything to be club president," says Conor Gee, who was president of the Rotary Club of Chicago in 2017-18. "But you're building a team around you. You learn what you're good at and what you're not good at, and you can rely on others to fill the gaps."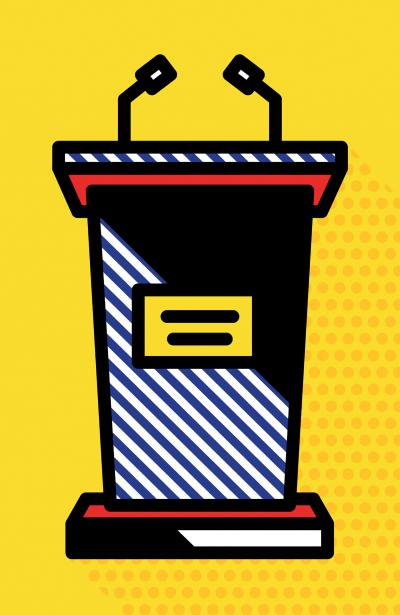 Gee says he has seen candidates shy away from the office, fearful that they lack adequate administrative ability or some other talent. Instead, he says, look at this as an opportunity to improve those skills. He adds that other candidates worry that they don't know enough about Rotary, such as the ins and outs of securing a global grant. "You don't have to be a Rotary expert," Gee says. "You can rely on your district leaders to train you. You just have to lead the club and tie everything together."
"The strongest presidents that I have seen in our club are the ones who bring leadership to the club and board, but don't do all the work themselves," says Mary Ann Collishaw, who has served two terms as president of the Rotary Club of Whistler Millennium, British Columbia. "Instead, they inspire club members to work hard."
Collishaw, who works at Whistler's tourism bureau, notes that her experiences as club president improved her professional skills. "I have learned and practiced leadership, organization, time management, delegation, and more through Rotary," she says. In addition, "my employer sees the value in having the community connection through Rotary."
Gee notes that the most important thing a club president should have is a clear vision of how he or she wants to move the club forward. "You don't have to be a perfect president to be a good one," he says.
District governor
District governors are an important part of Rotary's leadership structure. Governors, together with a team of assistant governors and district committees, support, strengthen, and motivate clubs. They also organize training and plan the district conference and other events. Nominees for district governor must have been Rotarians for at least seven years and have served as a club president.
MYTH: It's impossible to work full time and serve as district governor.
"There are lots and lots of people who were not retired when serving as DG, including me," says 2017-18 RI President Ian H.S. Riseley. "It's vital we stop this misconception."
Riseley, who ran an accounting firm while he was governor of District 9810, worries that misunderstandings about the role discourage too many people from even considering it. "Anything you do that you really enjoy does tend to take over your life a little bit," he concedes. He suggests leaders ask for support to make juggling the responsibilities easier. "You are part of a family in Rotary," he says. "We need to encourage people and offer assistance when they put their hand up and want to do the job."
Because visiting clubs is arguably the most time-consuming part of being district governor, Rotary allows multiclub visits. "There are several districts around the world that believe the district governor is mandated to visit all the clubs," says 2016-17 RI President John F. Germ. "That potentially weeds out younger people who wouldn't have the time to get that done." He points out that gathering members of several clubs for everyone to meet the governor at once can save time and offer opportunities for fellowship.
Sherri Muniz, a Rotarian from San Antonio, Texas, who was a district governor in 2011-12, says that even though she decided to scale back her business selling model cars and trains during her term as governor, her business actually grew that year. The added responsibilities forced her to work more efficiently, focus only on her best customers, and handle more requests remotely, which ultimately benefited her business. "I put Rotary first for a year, and it paid me back twofold," she says.
RI director
Rotary's Board of Directors establishes policy for Rotary International and provides guidance to clubs. Past district governors are eligible to serve on the Board, but at least three years must have elapsed since the end of their term as governor. Candidates must have attended two Rotary institutes and a Rotary convention in the previous three years. Each director serves for two years.
MYTH: Directors are appointed by the RI president.
Every director on the RI Board is nominated by one of Rotary's 34 zones. Regional nominating committees interview candidates and select the one they want to represent them. Clubs then formally elect the directors at Rotary's international convention.
In 2017, Ian Riseley did appoint a task force of eight past district governors – evenly split between men and women, and all of them in their 40s or younger – to advise the Board during his year as president.
People think they have to be good at everything to be club president. But you're building a team around you. You learn what you're good at and what you're not good at, and you can rely on others to fill the gaps.
Conor Gee
President of the Rotary Club of Chicago in 2017-18
"Most Board members are in their 60s, if not older," Riseley says. "We have to be conscious of the fact that there are many Rotarians much younger than that." By offering younger leaders, and more women, the opportunity to weigh in on issues facing the Board, Riseley aimed to diversify the perspectives the Board considered when making decisions. The task force advised on topics such as how to encourage young professionals to join clubs and assume leadership positions in Rotary.
RI President Rassin has opted to keep an advisory panel this year; he says it will play an especially important role because no women are serving on the 2018-19 Board of Directors, which disappoints him. Rassin suggests that Rotarians with similar concerns talk to their zone nominating committees. He also encourages clubs to nurture female leaders at the club and district levels. "That's where our leaders come from," he says.
Regional leaders
Rotary's regional leaders use their skills to support and strengthen clubs, focus and increase Rotary's humanitarian service, and enhance and heighten Rotary's public image. They also serve as trainers and facilitators at Rotary institutes, governors-elect training seminars, regional and zone seminars, district training, and other events. Regional leaders are appointed by the RI president or The Rotary Foundation trustee chair and serve a three-year term.