Rotary Club of Tokyo Hiroo, Japan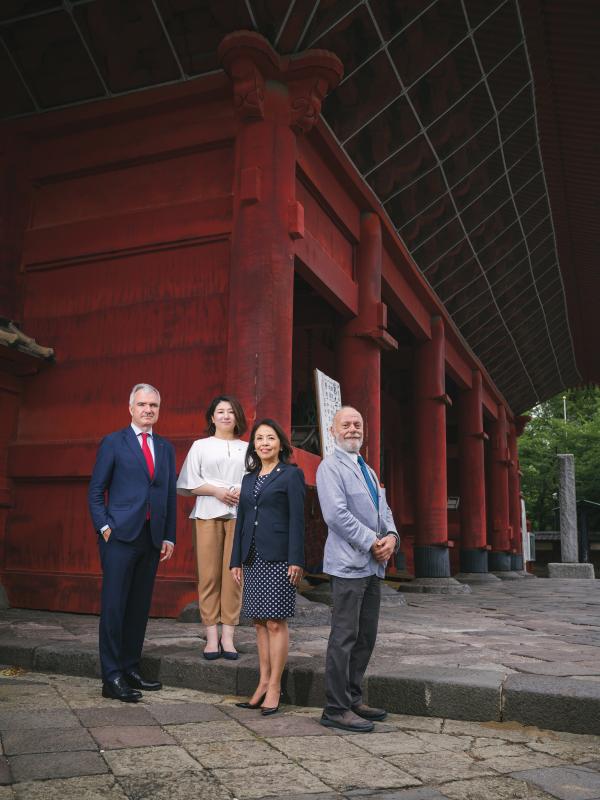 Tokyo Hiroo members Nikolaus Boltze (from left), Ai Ito, Yoko Hattori, and Alain Wacziarg at Zōjō-ji, a historic Buddhist temple in Tokyo.
Image credit: Irwin Wong
Even by the standards of Tokyo, one of the world's great culinary cities, the spread on Yoko Hattori's dining room table is impressive. On this evening in May, the 2018-19 governor of District 2750 has prepared rolls of maki sushi, filled with fresh crab and cucumber, and golden brown pockets of inari tofu rice. There are deep red slices of seared katsuo tuna and a plate of melt-in-your-mouth braised pork belly, or kakuni, simmered for hours in soy sauce, sake, and ginger.
There are non-Japanese delicacies too: The dinner, after all, is for members of Hattori's Rotary Club of Tokyo Hiroo, who hail from six countries on four continents. Alain Wacziarg, a Parisian who has lived in Tokyo for 45 years, has brought a loaf of pain de campagne and authentic Camembert. There's even guacamole. "Hattori-san made it," says Pablo Puga, the club's lone Mexican, using the Japanese honorific title for his hostess.
If this dinner feels more festive than a typical Rotary gathering, there's good reason. Several times a year, the club breaks from its regular Thursday lunchtime schedule and holds a less formal evening meeting at a member's home. This also happens to be the first time the club has met in Japan's new imperial era: On 1 May, the 59-year-old Naruhito succeeded his father, Akihito, to become Japan's 126th emperor, marking the end of the 30-year Heisei era and beginning the era of Reiwa, or "beautiful harmony." The transition came with an unprecedented 10-day national holiday.
Tokyo Hiroo, Japan's only bilingual club, prides itself on being different. While most Rotarians in Japan are older men, the youngest of this club's 30 members is 33, and about half of them are women. Meetings are conducted in Japanese and English, and most members can speak both.
Chartered in 2001, the Rotary Club of Tokyo Hiroo was the result of a push by Wacziarg and other expatriate Rotarians to start an English-speaking club in the Japanese capital. It was named after Tokyo's Hiroo district, an upmarket neighborhood of condominiums, boutiques, and embassies where many of its members resided.
Today, the club meets in nearby Roppongi, a neighborhood that's home to multinational corporations, luxury retailers, and some of Tokyo's most famous nightlife. Its regular meeting venue, the Roppongi Hills Club, is on the 51st floor of a Tokyo landmark: the 54-story Mori Tower, which boasts a rooftop observation deck that offers a 360-degree view of the world's largest metropolitan area. On a clear day, you can even see the distant peak of Japan's tallest mountain, Fuji.
Japan's only bilingual club prides itself on being different.
Because of its international connections, Tokyo Hiroo is particularly well positioned for global service. For more than a decade, the club has led a project in Kenya that began when Dennis Awori, Kenya's former ambassador to Japan, was a member of the Hiroo club. Since then, working with the Rotary Club of Nairobi-East, where Awori is now a member, and several other Japanese clubs, Tokyo Hiroo has supported the construction of more than 30 wells across Kenya. The wells are drilled using a 19th-century Japanese technique known as kazusa-bori that a small group of people can carry out using locally available materials. "These wells are perfect for rural areas, because they don't require electricity," says Michiko Mitarai, who traveled to Kenya with a group of Tokyo Hiroo members in 2013. The project has received two Rotary Foundation grants.
The club also supports causes closer to home. It sponsors an Interact club at the Canadian International School Tokyo and every few years hosts a foreign university student through a Rotary Yoneyama Memorial Foundation scholarship (Umekichi Yoneyama was the man who brought Rotary to Japan in 1920). Because club members are fluent in English, they're important assets for District 2750, which includes non-Japanese-speaking clubs from the Pacific states of Palau and Micronesia and the U.S. territories of Guam and the Northern Mariana Islands. Members host students selected by clubs there to visit Japan on exchanges.
Nikolaus Boltze, the 2019-20 club president, is a German who has lived in Japan for two decades; he says Tokyo Hiroo's greatest strength is the diversity of its members. In a way, this is also its greatest challenge: Many foreign members come to Tokyo on temporary assignments, he says, which means turnover is high. But despite the challenges, the club is growing: According to Boltze, membership has increased by 50 percent in recent years and remains steady as the club looks forward to a busy year. Next July and August, during the 2020 Olympics, the club plans to host meetings and events to welcome foreign Rotarians who come to Japan for the games. At the end of that year, it will celebrate its 20th anniversary.
On this particular evening, though, discussions of all that can wait. As the wine continues to flow and a cheesecake makes the rounds, business has largely given way to socializing, which continues late into the Tokyo night.
— JONATHAN W. ROSEN
• This story originally appeared in the September 2019 issue of
The Rotarian
magazine.